Salesfolk's Cold Email Mastery Course teaches proven B2B cold email strategies through video lessons, email examples, webinars with experts, and resources to help businesses boost sales.
---
What You Get
This course provides proven cold email strategies to help B2B businesses boost sales. It includes:
Video Lessons
24+ bite-sized video lessons you can learn at your own pace. New lessons are continually added.
Hours of HD video showing real cold emails written by SalesFolk for clients that generated millions in revenue.
Explanations of SalesFolk's methods and best practices so you can apply them.
Webinars
Private webinars with industry experts sharing tactics not found elsewhere.
Email Examples
Hundreds of real emails that succeeded and failed so you can see why.
Resources
A checklist for creating accurate buyer personas and targeted contact lists.
Guide to avoiding common mail merge mistakes.
Step-by-step process for building a scalable 8-touch email campaign.
List of 10 email mistakes to avoid.
Expertise
SalesFolk is the first company to specialize in cold email strategy.
They've written campaigns for over 560 B2B companies.
The course teaches the exact methods clients pay thousands for.
Proven to regularly triple revenue for clients.
In summary, this course provides comprehensive cold email training directly from expert practitioners, including video lessons, webinars, email examples, resources, and proprietary methodology. It equips B2B businesses to significantly improve sales through highly effective cold email outreach.
---
Download Proof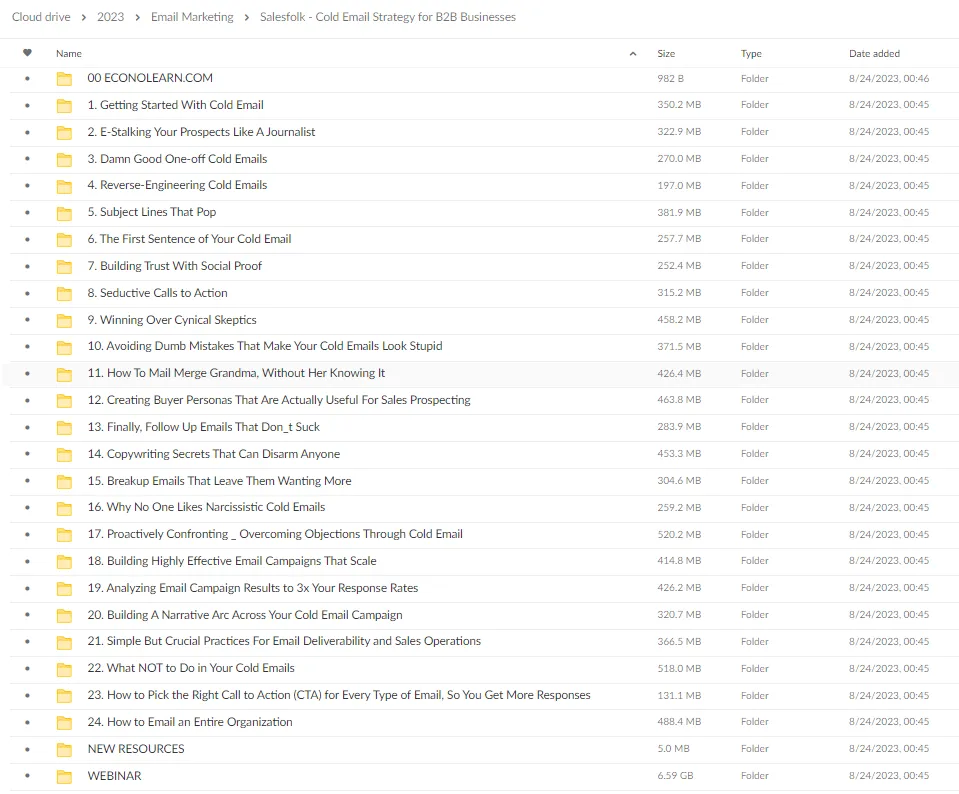 ---
Log In To See Download Link